Spectra Powersport Yamaha's Brock Hoyer airs it out in Cloverdale.
Defending Champ Brock Hoyer sprung back in to Arenacross action at the first rounds of the KTM Canadian Arenacross Championships at the Cloverdale Agriplex on October 19th and 20th. What many people don't realise is that Hoyer received his new Yamaha just one day before the first round. The champ took the first round to get acquainted with the new YZF250 on the Friday and put it on the box for both Pro Open main events. Future West caught up with the champ before rounds 3 and 4 this weekend at Chilliwack's Heritage Park.
Q You're the defending champ this year in both pro classes and as such carry the #1 plate, how much pressure does that put on your back and how do you cope with that aspect.
Yea being a champ from last year everyone guns to beat you but I feel no pressure I just have fun and do the best I can to try to bring home another championship. I have great support behind me which makes me relaxed and focused to do awesome.
Q You have a new ride this year with Yamaha through Spectra Powersports how is the switch going so far and what adjustments have you made to the bike to suit your riding style for Chilliwack.
Yes I am currently on a Yamaha supplied by Spectra Powersports and I'm sure loving my new YZF250. I have done some small changes to the bike like suspension and exhaust and stuff to get me a better jump out of start gate but getting use to bike has been fun and I'm excited and ready to put some fast laps down this weekend.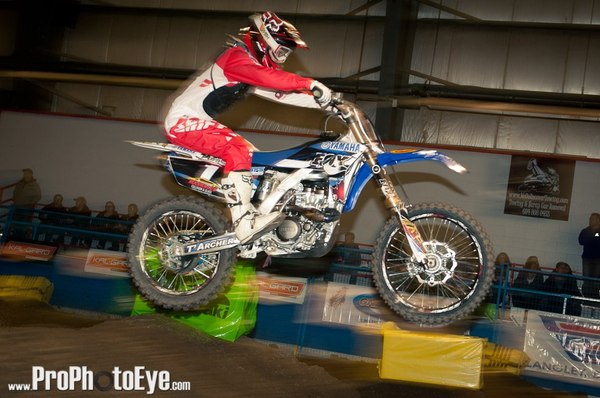 Hoyer springs to
form
on his new steed!
Q What were your thoughts on your first visit to the Cloverdale Agriplex.
It's a great arena, bright, different and fun. New faces and more fans, it turned out to be a rocking weekend.
Q It's still very early in the season with 10 more rounds to go, you were definitely settling into your new ride by Saturday evening at Cloverdale what are your expectations heading into Chilliwack.
Thoughts going in to Chilliwack will be to have fun and kick some butt. I got some more seat time on my bike this weekend and I'm feeling more at one with the bike. The biggest thing it to try to log in some seat time to better me and my speed and as of right now I'm feeling fast on the bike.
Q Who do you think will give you the biggest challenge this weekend.
Hard to say who will give me a run. Spenny (fellow Yamaha rider) I think will do some battles. But there's lot's of fast guys this year.
Q You
live
in Williams Lake and are heavily involved in your local club, do you see any up and coming riders from your area that we should be watching out for.
Yes, moto is very important to me and anyway I can grow the sport I will try to do so. There are some quick guys coming out of Williams Lake and if they stick with it things will happen for them. Biggest thing with moto is to stick with it and have fun and always have a good outlook, you never know who might help you out.
Q You have a lot of support in your racing but I imagine you would always welcome more, who would you like to thank for getting you to this years AX series.
Yamaha Motor Canada, Spectra Powersports, Fox Suspension by RMR , Apex Granite, T Archer Ltd., Shift Racing, Fox Head Canada, Atlas Brace, Maskell's Collision and Glass, Smith Goggles, MX1 Canada, Zeta, Vortex Sprockets, Galpher Discs, FMF , Hinson Clutches and Renegade Fuels.
Thanks Brock and good luck this weekend.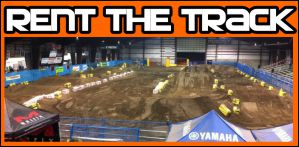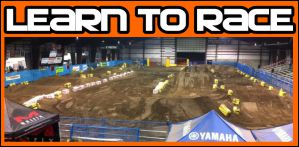 TWITTER
2012/2013 KTM Canadian Arenacross Championship Schedule
Round 1 Friday October 19th – Cloverdale Agriplex, Cloverdale Fairgrounds, Surrey, BC
Round 2 Saturday October 20th – Cloverdale Agriplex, Cloverdale Fairgrounds, Surrey, BC
Round 3 Friday November 2
nd
– Chilliwack Heritage Park, Chilliwack, BC
Round 4 Saturday November 3
rd
– Chilliwack Heritage Park, Chilliwack, BC
Round 5 Friday November 9
th
– Chilliwack Heritage Park, Chilliwack, BC
Round 6 Saturday November 10
th
– Chilliwack Heritage Park, Chilliwack, BC
Round 7 Friday January 18
th
– Chilliwack Heritage Park, Chilliwack, BC
Round 8 Saturday January 19
th
– Chilliwack Heritage Park, Chilliwack BC
Round 9 Friday February 1
st
– Chilliwack Heritage Park, Chilliwack, BC
Round 10 Saturday February 2
nd
– Chilliwack Heritage Park, Chilliwack, BC
Round 11 Friday February 8
th
– Cloverdale Agriplex, Cloverdale Fairgrounds, Surrey, BC
Round 12 Saturday February 9
th
– Cloverdale Agriplex, Cloverdale Fairground, Surrey, BC
A huge thanks to our proud supporting partners: