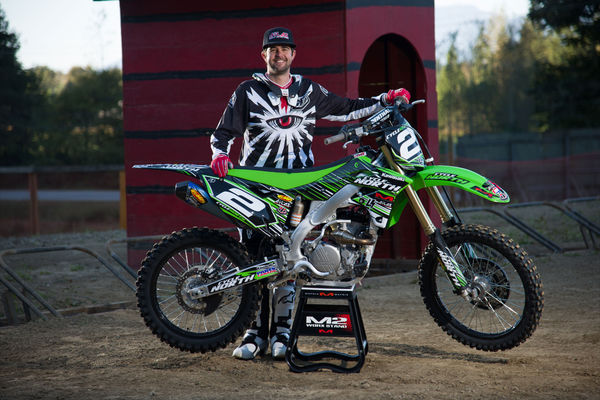 Cycle North's Ryan Lockhart Arenacross photo shoot. Primed and
ready
to capture another AX title.
Many consider Ryan Lockhart to be "The" veteran of the KTM Canadian Arenacross Championship with 11 years of Arenacross under his belt but what many don't realize is that Newf had to overcome his own adversity last year with what looked to be a career ending knee injury. Newf is refreshed and totally focused on adding another Arenacross title to his

accomplishments

. Future West tracked down Newf to reflect on the first rounds of the series, his life in BC, his career and more.
ON TRACK WITH RYAN LOCKHART
Q Ryan, you have got the long awaited first two rounds of the KTM Canadian Arenacross Championship behind you and came away from Cloverdale with some good results and a strong standing in the points, tell us about your first experience in Cloverdale?
Man it feels good to get the first two rounds out of the way. It's always exciting to see where everybody fits in and see who is ready to go. Cloverdale was a great event, the track was really cool and the dirt was unlike anything I have ever ridden on before and to top it off the crowd both nights was awesome. I'm definitely looking forward to going back in the new year. I was really happy with how both of my nights went, grabbing some heat wins and being on the podium 3 out of 4 mains was a great way
to start
for me.
Q You switched rides to Cycle North and Kawasaki this year how is that going?
It's going great, I really like the bike and I think it suits me really well, Kourtney and her family have been great to deal with and give me everything I feel like I need to put the bike on top of the box, so it just leaves it up to me and thats a great feeling.
Q Your buddy Kyle Beaton has owned the Chilliwack barn for many years, Brock Hoyer and yourself are the only two other riders to have held the Championships in recent years, does that give you an edge or some extra confidence going into Chilliwack for the next two weekends?
Yes! I really like racing in Chilliwack. I believe I have been racing in Chilliwack for about 10 seasons now so that's definitely a confidence booster. I know how the dirt is and how to react with the conditions. The track is always a treat, especially with it being a little bigger than your typical AX style track. I'm really looking
forward
to the next two weekends and getting some more podiums.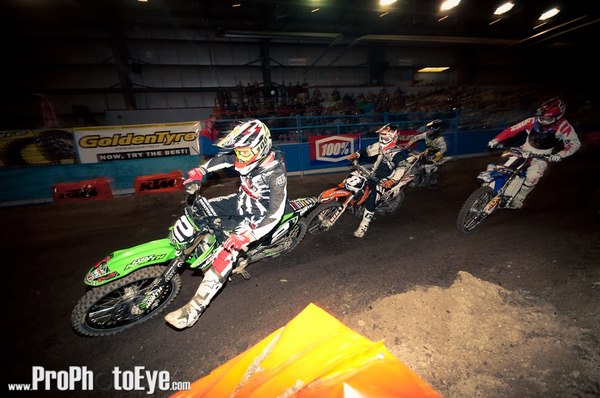 Newf leads the pack at the Cloverdale Agriplex!
Q You have become a crowd favourite with the West Coast fans who seems to have adopted you as one of their own. I know you will always call Nova Scotia home but are you a permanent BC resident now?
Yes 100% BC now! I have so many great friends here that I have made over the years and I look forward to spending the rest of my life here and starting my own family in the future.
Q How many years have you been racing AX in BC and how did that come about in the first place?
I want to say 11 years now. 2001 was the first year, it all started because my dad was such a huge supporter of my racing and always wanted to do whatever it took to get me to the next level. He grew up racing and spending his winters in BC with a great guy Wally Levy. At the time of 2001 Wally was working at Holeshot and they arranged a bike for me and I came out here and raced in Abbotsford. I knew from that point on I wanted to keep racing out here especially with the competition being so great. At that race I met two of my best friends Joey Sutherland and Brad Mclean and everything worked out from there. Im a believer that everything happens for a reason and here we are today.
Q You are a very busy guy this time of year, on weekends you're a full time pro AX racer and during the week you work for the Atlas Brace company and still find time to pass on your experience to up and coming racers by holding Arenacross riding schools on race day mornings, what keeps you fired up to take on so much?
The answer is simple. I love racing, I love this industry and I love being at the track. Racing is more on the side of fun for me now! I have a full time job with Atlas and Matrix so that is were my full focus is but you know what with racing not being as serious for me as it used to be I feel like I'm riding better than ever right now. It feels so good to go out there and mix it up with some of the best riders in the country. Teaching the schools on race day has always been fun for me, there is no better feeling in the world than helping the younger kids in the morning and them coming up to me at night when they are done racing and telling me about there results and seeing the smiles on their faces.
Q Arenacross racing is a very serious endeavour for you but it's also a fun weekend especially when you hit the after party, tell us how the after party went at the Cloverdale Holiday Inn and what's planned for Chilliwack?
Hahaha! Well, the after parties are always fun and a place to relax from the week of work and racing. It was great that Future West organized it for Cloverdale. It might of got a little out of control at the end of the night but it was just a bunch of racers and families enjoying some time to relax and to celebrate a good weekend of racing in Cloverdale. As far as Chilliwack you tell me the place and I will be there, Im going to have to start charging for the Free entertainment haha.
Q It takes a lot of help to do what you are doing who would you like to thank for making it all possible?
I need to thank Kourtney at Cycle North. It wouldn't be possible without her support. Kawasaki, Troy Lee Designs, 100%, Atlas Brace, Matrix Concepts, Golden Tyre, Rod from RMR has been awesome to me over the last few years, Rekluse Clutches, Kevin from Mongoose Machine shop, FMF, Popkum Motorpark, My bosses Brad, Brady and Rick for letting me have a little time off work on Fridays, Dylan and Scott Delaplace, Bruce Greenough and Kyle Beaton for being my trainer and telling me to get off my ass when im being lazy.
Thanks Ryan and good luck in Chilliwack!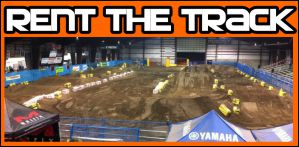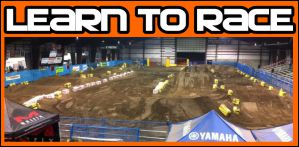 FACEBOOK
TWITTER
2012/2013 KTM Canadian Arenacross Championship Schedule
Round 1 Friday October 19th – Cloverdale Agriplex, Cloverdale Fairgrounds, Surrey, BC
Round 2 Saturday October 20th – Cloverdale Agriplex, Cloverdale Fairgrounds, Surrey, BC
Round 3 Friday November 2
nd
– Chilliwack Heritage Park, Chilliwack, BC
Round 4 Saturday November 3
rd
– Chilliwack Heritage Park, Chilliwack, BC
Round 5 Friday November 9
th
– Chilliwack Heritage Park, Chilliwack, BC
Round 6 Saturday November 10
th
– Chilliwack Heritage Park, Chilliwack, BC
Round 7 Friday January 18
th
– Chilliwack Heritage Park, Chilliwack, BC
Round 8 Saturday January 19
th
– Chilliwack Heritage Park, Chilliwack BC
Round 9 Friday February 1
st
– Chilliwack Heritage Park, Chilliwack, BC
Round 10 Saturday February 2
nd
– Chilliwack Heritage Park, Chilliwack, BC
Round 11 Friday February 8
th
– Cloverdale Agriplex, Cloverdale Fairgrounds, Surrey, BC
Round 12 Saturday February 9
th
– Cloverdale Agriplex, Cloverdale Fairground, Surrey, BCA huge thanks to our proud supporting partners: