HOYER JUMPS TO YAMAHA FOR KTM CANADIAN ARENACROSS CHAMPIONSHIPS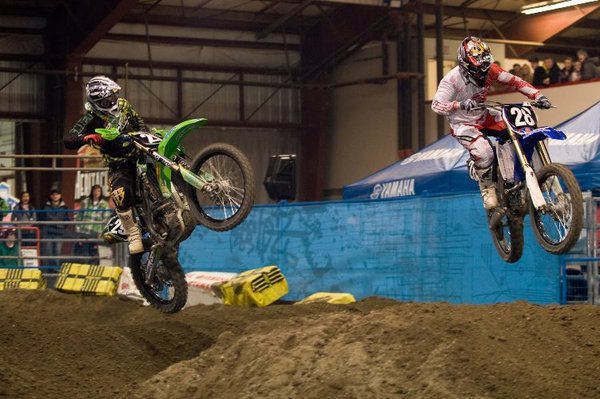 Clayton Racicot Photo:
Defending Canadian Arenacross Champ Brock Hoyer will make his Yamaha debut at the opening rounds of this years series at the Cloverdale Agriplex on October 19th and 20th. Hoyer will be riding for Spectra Power Sports of Williams Lake who recently added Yamaha to their line up of products.
The defending champ will be up against some tough competition including last year's runner up and former champ Ryan Lockhart who has switched brands to a Kawasaki from Cycle North of Prince George who are taking the lead in the Kawasaki assault on this years 12 round KTM Canadian Arenacross Championships. In addition, Canadian Arenacross title sponsor KTM Canada are busy securing two top class riders and are expected to announce their team very shortly. Add in GA Checkpoint Yamaha's star Spencer Knowles and temporary team mate and Ontario native Dylan Kaelin who just finished 5th in the MX2 class at this years Montreal Supercross and the gates start to look rather stacked.
Kamloops based RTR KTM rookie pro Dylan Delaplace is expected to be the pick of the crop of new pros entering the ranks after sweeping all three intermediate classes last year and finishing third overall in the pro am lite class. A host of top riders from the Lower Mainland and across the Pacific Northwest are also expected.Got your tickets yet? Visit
CLICK HERE TO BUY TICKETS
2012/2013 KTM Canadian Arenacross Championship Schedule
Round 1 Friday October 19th – Cloverdale Agriplex, Cloverdale Fairgrounds, Surrey, BC
Round 2 Saturday October 20th – Cloverdale Agriplex, Cloverdale Fairgrounds, Surrey, BC
Round 3 Friday November 2nd – Chilliwack Heritage Park, Chilliwack, BC
Round 4 Saturday November 3rd – Chilliwack Heritage Park, Chilliwack, BC
Round 5 Friday November 9th – Chilliwack Heritage Park, Chilliwack, BC
Round 6 Saturday November 10th – Chilliwack Heritage Park, Chilliwack, BC
Round 7 Friday January 18th – Chilliwack Heritage Park, Chilliwack, BC
Round 8 Saturday January 19th – Chilliwack Heritage Park, Chilliwack BC
Round 9 Friday February 1st – Chilliwack Heritage Park, Chilliwack, BC
Round 10 Saturday February 2nd – Chilliwack Heritage Park, Chilliwack, BC
Round 11 Friday February 8th – Cloverdale Agriplex, Cloverdale Fairgrounds, Surrey, BC
Round 12 Saturday February 9th – Cloverdale Agriplex, Cloverdale Fairground, Surrey, BC
Proudly supported by: